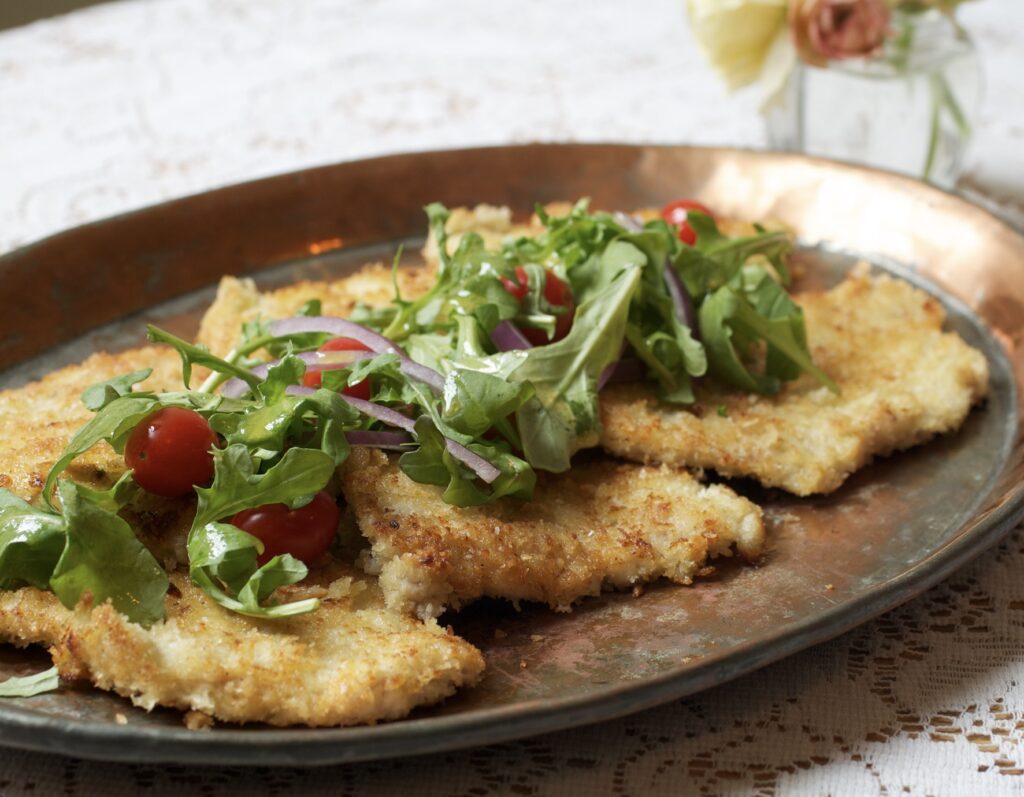 The key to this recipe is the buttermilk, a great tenderizer.  On the inside the chops turn out very juicy.  On the outside the panko breadcrumbs create a wonderfully crispy crust.  It's almost as if you had deep-fried them.
Makes 4 servings
Hands-on time: 30 minutes
Total preparation time: 1 hour (add 30 minutes if freezing before cutting)
Four 1/2-inch-thick boneless pork chops (about 1 pound)
1 cup buttermilk
1 teaspoon Tasbasco sauce
Kosher salt
1 garlic clove
2 ½ cups panko bread crumbs
6 to 8 tablespoons extra virgin olive oil or vegetable oil
Tossed green salad for garnish, optional
4 lemon wedges for garnish
If time permits, freeze the pork chops for 30 minutes to make them easier to cut. Carefully cut each one horizontally to make 2 thin chops. Sprinkle a small amount of water in a large zippered plastic bag. Place a pork chop in the bag and zip leaving 1/2 inch open. Pound with a rolling pin or meat pounder until the chop is about 1/8-inch thick; remove and set aside. Repeat with the remaining chops. (See "How to Make Pork or Chicken Scallopine/Cutlets" video.)
Whisk together the buttermilk, Tabasco sauce, and 1/2 teaspoon salt; mince and add the garlic. Transfer to a resealable plastic bag. Place the pounded chops in the bag with the buttermilk mixture, knead until the chops are coated evenly and marinate at room temperature, turning several times, for 30 minutes.
Spread out the bread crumbs in a pie plate lined with wax paper or parchment. Working with one chop at a time, remove the chop from the buttermilk mixture and sprinkle lightly with salt. Toss the chop in the bread crumbs lifting the wax paper on both sides to move the chop around; shake off the excess crumbs.
Heat half of the oil in a large non-stick skillet or stick resistant pan over medium heat until hot; add half of the chops. Sauté them, turning once, for 3 minutes per side, or until golden and just cooked through. Remove to a plate and keep warm. Repeat with remaining oil and chops.
Divide the pork chops among 4 dinner plates, top each portion with some of the tossed green salad if desired, and serve with a wedge of lemon.