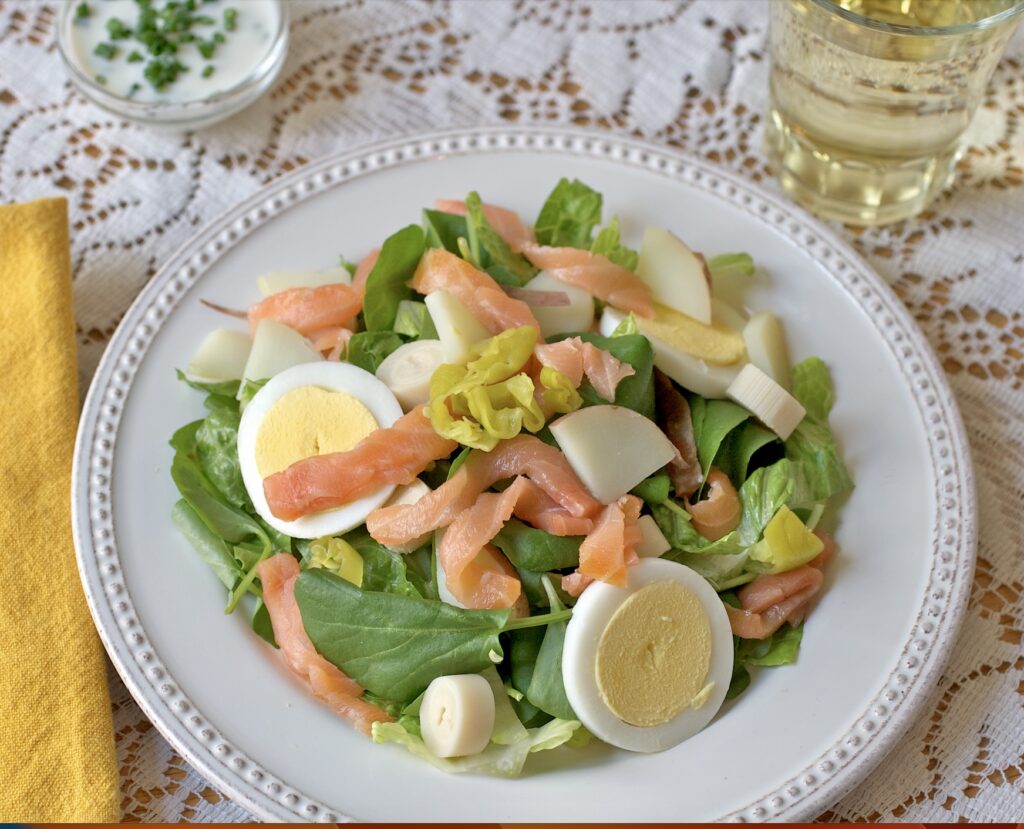 Photo by Jessica Leibowitz
This recipe works because the richness of the salmon is beautifully offset by the pepperiness of the watercress, the heat of the chiles, and the acidity of the lemon and buttermilk. 
Makes 4 servings
Hands-on time: 30 minutes
Total preparation time: 30 minutes
2 large eggs
6 small boiling potatoes such as Yukon Gold or Red Bliss
1/4 cup fresh chives, tarragon, or dill, or a combination
3/4 cup buttermilk
1/4 cup mayonnaise
1 teaspoon freshly grated lemon zest
Kosher salt and freshly ground black pepper.
One 14-ounce can hearts of palm, drained
1/2 pound thinly sliced smoked salmon
1 bunch watercress
1 heart of romaine lettuce
6 peperoncini or 4 pickled cherry peppers
Put the eggs in a small saucepan and cover them with 2 inches cold water. Bring the water to a boil and remove from the heat. Cover and leave for 12 minutes. Drain the eggs, return to the pan and cover with ice and cold water. Let stand for 10 minutes or until the eggs are completely chilled. Peel the eggs.
Meanwhile, combine the potatoes with cold salted water to cover by 1 inch in a small saucepan. Bring the water to a boil, turn the heat down to a simmer and cook 15 minutes or until the potatoes are just tender. Drain the potatoes, let cool and slice (about 1 1/2 cups).
While the potatoes are cooking make the dressing: Chop the chives (about 2 tablespoons). Whisk together the buttermilk, mayonnaise, chives, lemon zest, and salt and black pepper to taste.
Drain the hearts of palm and chop them (about 2 cups). Slice the eggs; cut the salmon into strips (1 generous cup). Remove and discard the tough stems from the watercress (about 3 cups) and coarsely shred the romaine (about 3 cups). Finely chop the peperoncini (about 1/3 cup).
Toss together the hearts of palm, eggs, salmon, watercress, romaine, potatoes, peperoncini, and dressing and serve.