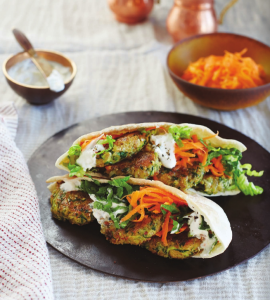 This is a meal in a sandwich—a zucchini burger that's blended with mashed chickpeas and breadcrumbs and nicely seasoned with spices and fresh herbs. It's equally appropriate on a summer's day in the backyard as on a wintry night in front of the fire. The pine nuts add crunch and, well, nuttiness. The garlicky yogurt sauce is crucial; it provides a tangy, creamy contrast.
As ever, the zucchini need to be salted, drained, and squeezed before it's added to the mix. This will not only rid it of excess water (you'll be amazed at how much it shrinks down), but also help to concentrate the flavor.
As you shape the mix into patties, don't flatten them too much. They're somewhat delicate. Serve these stuffed pita halves with a quick salad of grated carrots.
Start to finish: 60 minutes
Hands-on time: 45 minutes
Servings: 4 (makes about 16 patties)
1 cup plain Greek yogurt (full-fat or low-fat)
31/2 teaspoons minced garlic, divided
1/2 teaspoon freshly grated lemon zest
Kosher salt and freshly ground black pepper
1 pound zucchini (about 3 medium)
1 cup cooked chickpeas or drained, rinsed, canned chickpeas
1/4 cup plus 1 tablespoon extra-virgin olive oil, divided
1/2 cup minced onion
3/4 teaspoon ground cumin
1/2 teaspoon ground coriander
1/2 cup dry breadcrumbs
1/4 cup toasted pine nuts, chopped
1/2 cup packed fresh parsley leaves, finely chopped
1/3 cup packed fresh mint leaves, finely chopped
Four 6-inch pitas with pockets, halved
Shredded lettuce
Grated Carrot Salad
Preheat the oven to 200°F. Combine the yogurt, 1 1/2 teaspoons of the garlic, the lemon zest, and salt and pepper to taste in a small bowl and set aside.
Coarsely grate the zucchini in a food processor fitted with the medium shredding disk. Toss with 1 teaspoon salt in a colander and let stand 15 minutes to drain. Wipe out the food processor, fit it with the cutting blade, and add the chickpeas and 1 tablespoon water. Process until fairly smooth.
Heat 1 tablespoon of the oil in a large nonstick or stick-resistant skillet over medium heat, add the onion and cook until golden, about 8 minutes. Add the remaining 2 teaspoons garlic, the cumin, and coriander and cook, stirring for 1 minute. Transfer to a medium bowl and set the skillet aside.
Working with a small handful at a time, squeeze out the zucchini to remove excess moisture; add it to the bowl with the onion. Add the chickpeas, breadcrumbs, pine nuts, parsley, mint, and salt and pepper to taste; combine well, using your hands if necessary. Roll 2-tablespoon portions into balls (you should get about 16) and flatten them into patties 1/2-inch thick and 2 inches wide.
Heat 2 tablespoons of the remaining oil in the skillet over medium heat, add half the patties, and cook, turning once, until golden on both sides, about 6 minutes. Transfer them to a rimmed sheet pan and keep warm in the oven. Repeat procedure with remaining oil and patties. To serve, arrange several patties in each pita half, top with the yogurt sauce, lettuce, and Grated Carrot Salad.
Grated Carrot Salad: Whisk together 2 tablespoons white vinegar, 1/2 teaspoon sugar, and 1/4 teaspoon kosher salt in a medium bowl. Add 2 cups coarsely grated carrots and toss well.