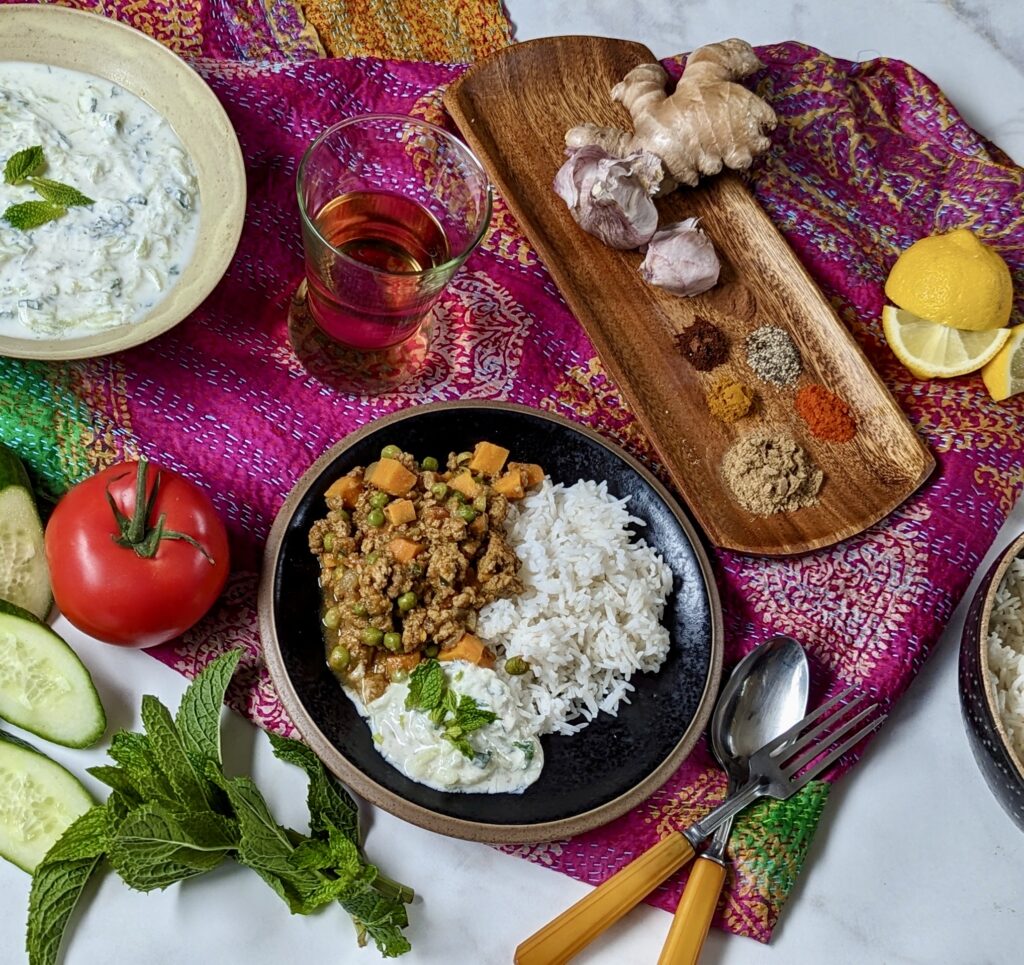 Note: we did a double recipe for 8 people because we were -re-using the leftovers later in the week. The recipe for 4 and for 8 are below. You should make the recipe for 8 if you are planning on preparing the stuffed peppers later in the week. 
For 4 people:
6 teaspoons ground coriander
1 teaspoon ground cumin
¼ teaspoon cayenne
¼ teaspoon freshly ground black pepper
¼ teaspoon ground turmeric
1/8 teaspoon ground cinnamon
1/8 teaspoon ground clove
3 tablespoons neutral oil
1 large yellow onion, chopped medium (2 cups)
1 large garlic clove, minced (2 teaspoons)
2 teaspoons minced ginger
1 teaspoon minced fresh green serrano chili, or 2 teaspoons minced jalapeño
1 pound ground turkey
1 teaspoon fine sea salt
1 large, sweet potato, peeled and cut into ¼-inch cubes (2 cups)
1 medium tomato, chopped (1 cup)
1 cup water
1 cup frozen peas
1 teaspoon fresh lemon juice
2 tablespoons chopped cilantro leaves and tender stems
In a small bowl, combine the ground spices and set aside. Heat the oil in a large 11- to 12-inch sauté pan (with a lid) over medium-high heat. When it is shimmering, add the onion and cook, stirring, until the edges are golden, about 8 minutes. Stir in the garlic, ginger, and green chili and cook until they become fragrant, about 1 minute. Add the ground meat and cook, breaking it up into small pieces with a spatula, until it browns a bit at the edges, 5 to 7 minutes.
Stir in the ground spices and salt and sauté over medium until the spices lose their raw smell, 1 to 2 minutes. Add the sweet potato, tomatoes, and water and stir to blend well. Bring the mixture to a boil, then reduce the heat to low so the liquid is just simmering. Cover and cook until the potato and tomato are soft and the meat is cooked through, about 25 minutes. Stir the mixture occasionally to make sure it is cooking evenly.
Add the peas and cook another 2 to 3 minutes. If it seems watery at this point, remove the cover to evaporate some of the liquid until the sauce is thick but still moist.
To finish: Stir in the lemon juice and cilantro and transfer to a warm bowl. Serve immediately.
DOUBLED RECIPE:
For 8 people or if you want to re-purpose leftovers
4 tablespoons ground coriander
2 teaspoons ground cumin
1/2 teaspoon cayenne
1/2 teaspoon freshly ground black pepper
½ teaspoon ground turmeric
1/4 teaspoon ground cinnamon
1/4 teaspoon ground clove
6 tablespoons neutral oil
2 large yellow onions, chopped medium (4 cups)
2 large garlic cloves, minced (4 teaspoons)
4 teaspoons minced ginger
2 teaspoons minced fresh green serrano chili, or 4 teaspoons minced jalapeño
2 pounds ground turkey
2 teaspoons fine sea salt
2 large sweet potatoes, peeled and cut into ¼-inch cubes (4 cups)
2 medium tomatoes, chopped (2 cups)
2 cups water
2 cups frozen peas
2 teaspoons fresh lemon juice
4 tablespoons chopped cilantro leaves and tender stems
CUCUMBER RAITA
1 medium cucumber
1 cup plain whole milk yogurt
1/4 teaspoon ground cumin
Freshly ground black pepper
Pinch of cayenne
½ teaspoon fine sea salt
1/4 cup finely chopped mint leaves
Peel the cucumber, remove the seeds, and coarsely grate it on a box grater. Place it in a colander and give it a squeeze to remove some of the excess water. If you like your raita chunkier, you can finely chop your cucumber instead.
In a medium serving bowl, combine the cucumber, yogurt, ground cumin, a few grinds of black pepper, the cayenne, salt, and mint and stir well. Cover and set aside in the refrigerator until just prior to serving.
Give the raita a stir as the salt may have drawn out some of the cucumber's water. If you like your raita loose, now is the time to stir in a tablespoon or two of water to get the consistency you like.
Day 2: Stuffed Peppers with Turkey Keema
Start to finish:  45 minutes
Hands-on time:  15 minutes
4 servings
4 bell peppers
Leftover Keema Filling (about 4 cups)
1 cup leftover basmati rice
Olive oil
1 – 1/2 cups coarsely shredded mozzarella cheese
Bag of baby spinach or spring mix for a side salad
Preheat oven to 400.
Slice 4 bell peppers lengthwise, from stem to bottom to make 8 little boats; put them in a parchment lined baking dish cut side down in a 400-degree oven for 10-12 minutes.   In a large skillet over low heat, reheat the leftover keema and rice for a few minutes.
Remove the peppers from the oven. Flip the peppers, fill them with the keema/rice mixture and return to the baking dish. Top with some shredded mozzarella.  Place in the oven to heat through for about 20 minutes.