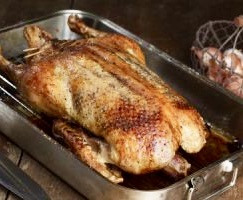 Serves 4
One 5-pound Long Island (Pekin) duck
Kosher salt and freshly ground black pepper to taste
1 tablespoon vegetable oil
1 small onion, coarsely chopped
1 small carrot, coarsely chopped
2 garlic cloves, smashed with the side of a knife
1 cup dry red wine
1 small celery rib, coarsely chopped
2 fresh thyme sprigs or 1/2 teaspoon dried
1/2 teaspoon black peppercorns
1/2 bay leaf, preferably Turkish
1 tablespoon tomato paste
1 quart chicken stock, preferably homemade
1 1/2 tablespoons all-purpose flour
1 1/2 tablespoons unsalted butter, softened
2 tablespoons drained, bottled green peppercorns
1 tablespoon Dijon mustard
Preheat the oven to 450°F. Remove the neck and giblets from the cavity of the duck and reserve. Cut the wings off the duck and reserve. Rinse the duck under cold running water and pat dry with paper towels. Using the tip of a sharp paring knife, prick the duck all over, inserting the knife at an angle to pierce just the skin, not the flesh. Season well with salt and pepper. Place on a rack in a shallow roasting pan and roast until browned and crisp, 1 1/4 hours. Remove the roasting pan at 30 minute intervals, drain off the fat, and again prick the skin.
While the duck is roasting, rinse the neck, giblets, and wings and pat dry. Cut the wings and the neck into several pieces. Heat the oil in a large saucepan over medium-high heat. Add the neck, giblets, and wings. Cook, stirring often, until golden brown, 8 to 10 minutes. Reduce the heat to medium and add the onion, carrot, and garlic. Cook until the vegetables are lightly browned and softened, 5 to 8 minutes. Increase the heat to medium-high and pour in the wine. Bring to a boil, stirring to pick up any browned bits on the bottom. Boil until almost all of the liquid has evaporated. Add the celery, thyme, black peppercorns, bay leaf, tomato paste, and stock. Reduce the heat to medium and simmer, skimming off any scum that rises to the surface, until the duck is ready to come out of the oven.
When the duck is done, transfer it to a carving board, cover loosely with aluminum foil, and let it rest for 15-20 minutes before carving.