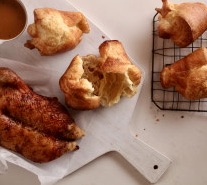 Start to finish: 40 minutes plus 1 day and 1 hour resting time
Hands on time: 10 minutes
Servings: Makes 10 to 11 popovers
4 large eggs
2 cups whole milk
1/2 cup plus 3 tablespoons melted duck fat, divided
2 cups all-purpose flour
1/2 teaspoon table salt
Whisk the eggs in a large bowl, add the milk, 1/4 cup of the duck fat and combine well. Add the flour and salt and stir just until combined. Cover and chill over night. The next day, remove the batter from the fridge and let it stand at room temperature for 1 hour.
Preheat the oven to 450 F.
Pour 2 teaspoons of the remaining duck fat into each of 11 nonstick popover cups (or, if you don't have a nonstick tin, grease each of 11 regular popover cups with 2 teaspoons duck fat), reserving the remaining duck fat for the leftover batter. Place the popovers on the lower third of the oven and preheat for 5 minutes.
Remove the pan from the oven, fill the tins three fourths of the way and bake the popovers in the lower third of the oven with plenty of room above them for 14 minutes. Without opening the oven, reduce the heat to 350 F. and bake for an additional 15 minutes.
Let the popovers stand in the tins for 5 minutes before serving.