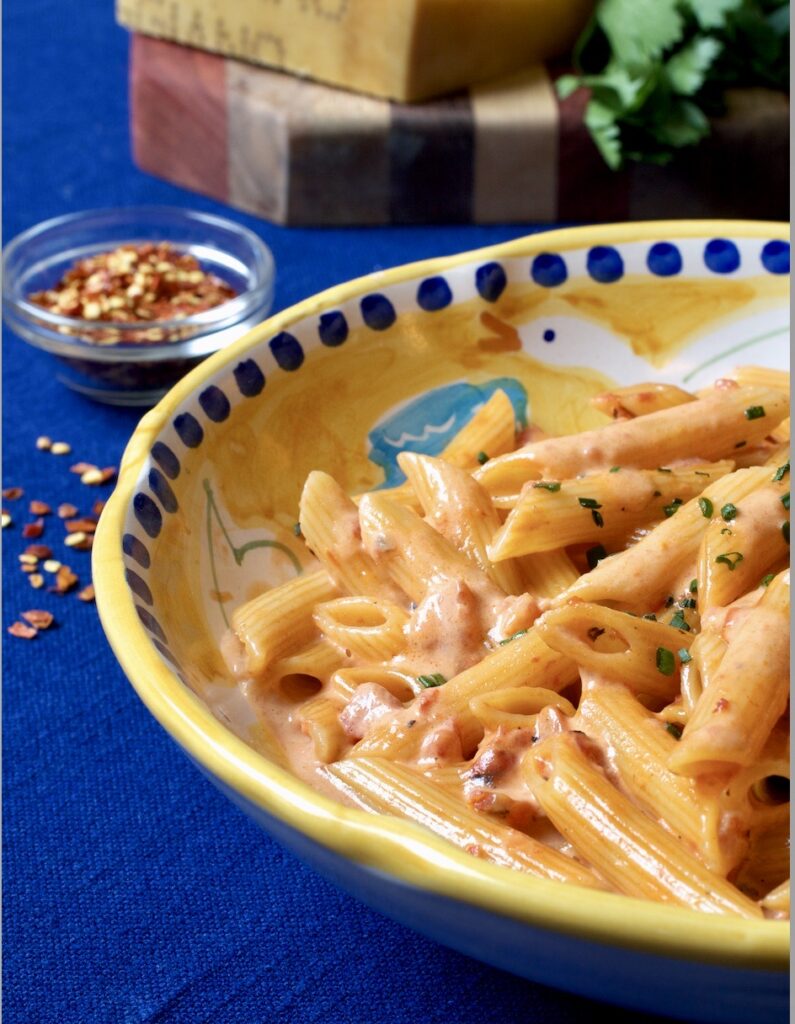 photo by Jessica Leibowitz
Penne à la Vodka, Classic and Lite
 My daughter Ruthie is a big fan of penne á la vodka. I love it, too, but I wanted to figure out a way to make it less fattening than usual.  That's why there are two versions of penne à la vodka below. For the low fat version I swapped out the cream for milk thickened with flour.  This stratagem pushes the number of ingredients required to six, but, really, in the interest of good health, who's counting?  And the flavor remains big.
Makes 4 servings
Hands-on time: 15 minutes
Total preparation time: 25 minutes
Kosher salt
3/4 cup canned tomato puree or crushed tomatoes (preferably fire roasted)
2/3 cup vodka
Hefty pinch of crushed red pepper flakes (okay, extra ingredient – pretend it is like black pepper and doesn't count)
1 ½ cups heavy cream (see Low fat version below)
1 pound penne pasta
3 ounces Parmigiano-Reggiano cheese
Bring a large pot of salted water to a boil for the pasta.
Combine the tomato puree, vodka, 1/4 teaspoon salt and red pepper flakes in a medium saucepan. Bring to a boil, reduce the heat to low and simmer for 5 minutes. Add the cream, return the mixture to a boil and simmer until slightly thickened, about 15 minutes.
While the sauce is simmering, add the penne to the boiling water and cook until al dente, following the package directions. Drain the pasta, reserving 1 cup of the cooking water. Return the pasta to the cooking pot.
Microplane-grate the cheese (about 2 cups) or grate on the fine side of a metal grater (about 1 cup). Add the sauce to the pasta along with the cheese and salt to taste and enough of the cooking liquid to achieve the desired consistency. Cook until heated through, spoon into shallow bowls and serve.
Low fat Version
Instead of using the heavy cream, heat 1 1/2 cups whole or low fat milk in a small saucepan over medium heat until steaming. Whisk together 1 1/2 tablespoons all-purpose flour and another 1/4 cup milk in a small bowl to make a smooth paste; whisk it into the hot milk and bring the mixture to a simmer, whisking constantly. Simmer for 2 minutes then add to the tomato and vodka mixture in place of the cream and simmer for 10 minutes. Continue as directed above.