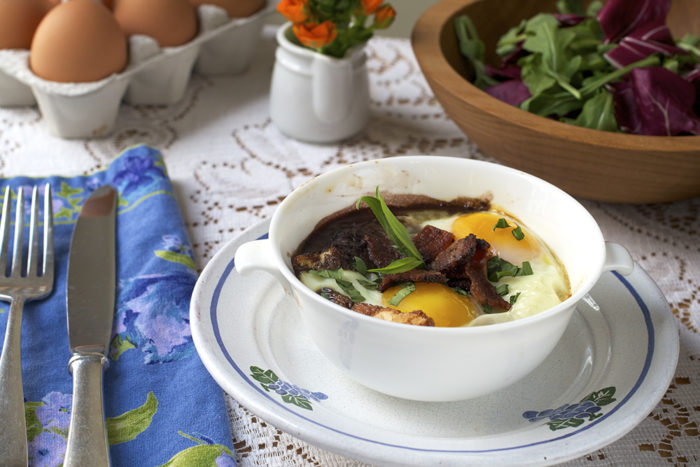 Makes 2 servings
Hands-on time: 20 minutes
Total Preparation time: 40 minutes
Suggested Accompaniment
steamed asparagus tossed with a little butter
Ingredients
2 slices homemade-style white bread
2 garlic cloves, one halved and one minced
3 strips bacon
1 shallots minced
¾ c dry red wine
¾ c chicken stock, preferably homemade
1 T unsalted butter
½ T all-purpose flour
Kosher salt and freshly ground black pepper to taste
4 large eggs
1T chopped fresh herbs, such as chives, parsley, tarragon, lemon thyme
Directions
Toast each slice of bread and rub with the halved clove of garlic while warm.
Preheat the oven to 350°F. Cook the bacon in a large skillet over medium heat until browned and crisp. Drain on paper towels. Crumble when cooled and set aside. Pour off all but 1 tablespoon of the bacon fat from the skillet and add the minced garlic and the shallots. Cook over low heat, stirring often, until softened, 2 to 3 minutes. Pour in the wine and increase the heat to high. Bring to a boil and cook, stirring to scrape the browned bits from the bottom of the skillet, until reduced to 1/2 cup. Pour in the chicken stock and bring back to a boil.
Use a fork to blend the butter and flour into a smooth paste in a small heatproof bowl. Whisk about 1/4 cup of the boiling liquid into the bowl and blend until smooth. Empty the bowl into the skillet and boil, whisking constantly, until slightly thickened, about 2 minutes. Season with salt and pepper.
Arrange 2 bread triangles in the bottom of 4 individual 1-cup casserole dishes or ramekins. Pour a quarter of the red wine sauce over the bread and carefully break 2 eggs on top. Arrange the dishes on a sheet pan and bake in the middle of the oven until the eggs are just set, 18 to 20 minutes. Sprinkle with fresh herbs and the crumbled bacon. Serve hot.