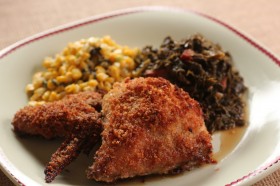 This easy recipe from Sara Moulton Cooks at Home is ideal for entertaining. You can put it into the oven and it minds itself while you do other things. When I told my mentor and good buddy Jean Anderson that my first cookbook needed her chicken recipe- it became one of the most requested on Cooking Live — she floored me by replying that it wasn't really her recipe. She had learned it when she was working at Ladies' Home Journal and then adapted it for The Doubleday Cookbook. Still, I learned it from Jean and think of it as Jean Anderson's Chicken, and I have never met a chicken lover who wasn't nuts for it, kids and grown-ups alike. It is great served hot, cold, or at room temperature. It'd probably be great if you served it on the moon. A word to the wise: This is a high-calorie recipe, so you might want to save it for special occasions.
All you have to remember is melted garlic butter and a crumb mixture with a ratio of three parts fresh bread crumbs (page 347) to one part freshly grated Parmigiano-Reggiano. Dip the chicken pieces in the butter, then in the crumb mixture, then bake them. You can dress up this recipe by adding herbs to the crumb mixture, but I usually make it plain for the kids, they get nervous when they spot those little green flecks.
By the way, it is essential to use the real Parmigiano-Reggiano and to grate it yourself. Do not reach for that pre-grated stuff in a can–it tastes like sawdust. If grating the cheese by hand seems like too much work, just cut some into chunks and throw them into the food processor with the metal blade. The result isn't as fine as hand-grated cheese, but it works just dandy for this recipe.
Jean Anderson's chicken is perfect for a crowd. It is a little messy to make (I usually end up breading my hands, too), but it is worth the mess, and you will become very popular.
Makes 4 to 6 servings
Hands on Prep Time: 20 minutes
Total Prep Time: 1 hour and 20 minutes
Ingredients
16 tablespoons (2 sticks) unsalted butter
4 garlic cloves, minced
3 cups fresh bread crumbs (see method below)
1 cup (1 ½ ounces) freshly grated Parmigiano-Reggiano (see Cook's Notes below)
2 teaspoons Kosher salt
Freshly ground black pepper to taste
One 3 1/2-pound chicken, cut into 10 pieces (or all thighs, wings, or breasts if desired)
Directions
Preheat the oven to 350°F. Combine the butter and garlic in a small saucepan. Heat over medium-high heat until the butter has melted. Pour into a large bowl and cool to room temperature.
Mix the bread crumbs, cheese, salt, and pepper in a large bowl. Dip each chicken piece, one at a time, into the melted garlic butter. Transfer to the bread crumb mixture and turn until coated on all sides.
Arrange the chicken in one flat layer on a large baking sheet. Drizzle on any of the remaining melted butter. Bake until lightly browned and just cooked through, 50 to 60 minutes.
Southern Braised Mustard Greens with Ham
These are good old-fashioned mustard greens, cooked slow and low with a ham hock. It is a great make-ahead dish for a crowd, and it nicely rounds out a buffet. You can make the same recipe using kale or collard greens or mix up all three. Me, I prefer the strong bite of those mustard greens.
Makes 4 to 6 servings
Hands on Prep Time: 20 minutes
Total Prep Time: 1 hour and 15 minutes
Ingredients
2 pounds mustard greens
1 quart chicken stock, preferably homemade
1 meaty ham hock, preferably split in half
1/2 teaspoon hot red pepper flakes
2 tablespoons red wine vinegar
1/2 teaspoon sugar
Kosher salt and freshly ground black pepper to taste
Directions
Remove the tough bottom stems from the greens and cut the leaves into wide strips. Pour the chicken stock into a large soup pot or kettle and bring to a boil over high heat. Add the greens and stir until wilted, about 2 minutes. Add the ham hock, reduce the heat to medium and add the pepper flakes and vinegar. Cook, partially covered, until the greens are very tender and the broth is full-flavored, about 45 minutes. Season with the sugar, salt, and pepper.
Drain the greens, reserving the cooking liquid. Rinse out the pot and pour in the strained liquid (pot likker). Transfer the hock to a bowl and cool. When the hock has cooled, remove the skin, fat, and gristle. Cut the resulting lean ham into small pieces. Bring the liquid (about 2 cups) in the pot to a boil over high heat. Boil until reduced by half. Reduce the heat to medium and return the greens to the pot. Season with salt and pepper and stir until warmed through, about 3 minutes. Turn out into a warmed serving bowl and garnish with the pieces of ham. Serve hot.
Creamed Corn 
Makes 4 Servings
Hands-on time: 20 minutes
Total Preparation time: 25 minutes
Ingredients
8 to 10 ears fresh corn
3 tablespoons unsalted butter
1 small onion, finely chopped (about 1/2 cup)
4 scallions (white and light green parts) finely chopped (about 1/2 cup)
2 tablespoons rinsed, dried, and shredded fresh basil
1 tablespoon fresh lemon juice
Kosher salt and freshly milled black pepper
Directions
Cut the corn kernels from the cobs (you should have about 6 cups). Transfer 2 cups to a blender and puree until very smooth. Press the mixture through a strainer into a bowl; reserve the puree.
Melt the butter in a large skillet over medium-low heat. Add the onion and cook, stirring occasionally, until softened, about 8 minutes.
Add the whole corn kernels and cook 3 minutes. Add 1/2 cup water, bring to a simmer, and cook for 3 minutes. Stir in the corn puree and scallions and simmer 2 minutes more. Add the basil, lemon juice and salt and pepper to taste.
COOK'S NOTES
Homemade Bread Crumbs
You can buy bread crumbs at a supermarket, but it's so easy to make your own that it's ridiculous not to! You can use them right away or freeze them. If you freeze them, you need to dry them out in a 350 oven for about 5 minutes.
Makes about 2 1/2 cups
Ingredients
10 slices homemade-style white bread
Directions
Cut off and discard the crusts from the bread and tear into large pieces. Place in a food processor or blender and process until very fine.
Cream Biscuits
This is a recipe I developed while working in the Gourmet magazine test kitchen. It is so easy and versatile that I use it as the basis for any biscuit-related recipe I make.
Makes 4 sandwich-size biscuits or up to 12 smaller ones
Ingredients
2 cups unbleached all-purpose flour
1 to 3 tablespoons sugar, optional
1 tablespoon baking powder
1/2 teaspoon table salt
1 to 1 1/2 cups heavy cream
Directions
Preheat the oven to 425°F. Lightly grease a cookie sheet.
Stir together the flour, sugar (if using), baking powder, and salt in a large bowl. Pour in enough of the cream to just form a dough.
On a lightly floured surface, knead the dough gently several times and divide into 4 to 12 equal balls as desired. Pat out each ball to make a 3/4-inch-thick round on the cookie sheet.
Bake 15 to 20 minutes, depending on size, or until pale golden. Transfer to a rack and let cool slightly.
Grating Parmigiano-Reggiano
When you grate Parmigiano-Reggiano you will get a different yield (volume) if you grate it on a microplane or on the fine side of a 4 sided grater. A microplane produces a fluffier, airier end result, roughly double the volume of what you would have gotten on a box grater. So, for this recipe, which calls for 1 ½ ounces of grated cheese, you will end up with 1 cup if you grate it on a microplane and ½ cup if you grate it on a box grater.