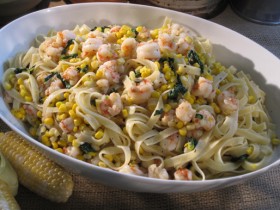 Makes 4 servings
Hands-on Time: 30 minutes
Total Preparation Time: 45 minutes
Ingredients
1 pound dried fettuccine
3 tablespoons plus ¼ cup extra-virgin olive oil, plus high-quality extra-virgin olive oil, for drizzling
1 medium jalapeño, stemmed and seeded, sliced in rounds
1 pound rock shrimp, peeled and deveined
Sea salt
Freshly ground black pepper
6 ears corn, kernels removed from cob, about 3 cups
2 cups arugula, rinsed and spun-dry, chopped
Directions
Bring a large post of salted water to a boil. Add the fettuccine and cook 1 minute less than the box instructions for al dente. Drain the pasta in a colander, reserving about ¼ cup of the cooking water.
While the pasta is cooking, heat the 3 tablespoons olive oil over a medium flame in a deep, straight-sided sauté pan. Add the jalapeño and cook until softened, about 2 minutes. Season the rock shrimp with salt and pepper, then add to the pan. Sear the shrimp on all sides for 6-8 minutes total. Add the corn, stir well to combine, and cook for about 1 minute more. Season with ½ teaspoon sea salt.
Reduce the flame to medium and add the arugula. Stir to combine. Add the pasta and the reserved pasta water. Use tongs to combine the ingredients, and continue cooking for about 1 minute more. Season with additional salt and pepper. Use the tongs to transfer the pasta to four serving bowls, and drizzle some high-quality extra-virgin olive oil over each bowl before serving.
Cook's Notes
Why is fettuccine particularly good for this dish?
Fettuccine is a great carrier for these smaller ingredients ensuring each bite is full of
corn, shrimp, and arugula.
Jalapeños get their heat from capsaicin, which is concentrated primarily in the inner whitish pith as well as the seed pod with smaller amounts in the seeds. Use a melon baller, teaspoon or grapefruit spoon to scrape the inside of the chile to remove the seeds and ribs.
Natural sea salt is simply sodium chloride and in its pure form is no different from everyday table salt. However, depending on where the salt is harvested trace mineral elements such as potassium, magnesium, and calcium can be found. These elements cause variation in the flavor and color of the salt. And depending on how the salt crystals are harvested, their texture can range from sand like and powdery to crystalline and flaky.
Sea salt has less sodium per 1 teaspoon (mg) than table salt:
Sea Salt = 1568
Kosher Salt = 1120
Salt (table) = 2325
About Dave Pasternack

In 2005, The New Yorker identified Dave's strength as "knowing when something needs a little something." Similarly, Frank Bruni, in his three-star New York Times review of ESCA, called Dave a "fish whisperer." Indeed, Dave respects the nuances of fish cookery and embraces its subtleties. In 2004, the James Beard Foundatioin recognized Dave as Best Chef: New York City. He's also an avid fisherman and is equally enthusiastic about catching fish as he is about serving it. At ESCA, freshness reigns, whether it's a just-caught halibut from the Pacific, flown in a few hours before dinner or a local striped bass caught by Dave himself at home on the Long Island Sound.
David Pasternack is a master chef whose specialty is fish and who practices his art at Esca, his restaurant on West 43rd Street in Manhattan and at Eataly on 23rd street. Mr. Pasternack's major innovation, when Esca opened in 2000, was introducing New Yorkers to the delicately seasoned raw-fish combinations known as crudo, the restaurant's Italianized version of sashimi — with a dollop of olive oil, lemon juice or vinegar, a dot of sea salt (Mr. Pasternack uses several kinds) and minuscule garnishes from the chef's imagination: sea beans, artichoke slices, pine nuts, pickled fiddleheads.
Frank Bruni, the restaurant critic of The New York Times, wrote in 2007 in his three-star (excellent) review of Esca — which means "bait" in Italian — that Mr. Pasternack enjoys "some preternatural rapport with the sea's creatures, an extrasensory insight" and that he can "tease out their greatest performances."
"He's an honest-to-God fisherman," Mr. Bruni continued, "in love with the ocean, and Esca is his ongoing ode to it."
Among the favorite dishes Mr. Bruni cited were orange marlin, seared and served with fava beans; and pink snapper, grilled and presented with the skin on.
Mr. Pasternack grew up in Rockville Centre, N.Y., close to the South Shore of Long Island, and developed his love for the sea — and for fishing — at an early age. When he was 14, he was a busboy in a steakhouse in Rockville Centre. "I started cooking when I was 18," he once recalled, "and my first job was in a fish restaurant on Long Island." He went to culinary school at Johnson & Wales University in Providence, R.I., and spent two decades working in New York restaurants, many of which specialized in French cuisine — including La Reserve, Bouley, Steak Frites, Prix Fixe and Sam's. "Over the years, I had lots of French training," Mr. Pasternack recalled, "but I wanted to do fish."
His major break came when he went to work at Picholine, on the Upper West Side of Manhattan near Lincoln Center. In a 2005 profile of Mr. Pasternack in The New Yorker, the writer Mark Singer noted that when Ruth Reichl of The Times gave Picholine three stars in 1996, "it was understood that Pasternack, the chef de cuisine, deserved much of the credit. One of his signature dishes was seared sturgeon with caviar sauce; the fish was served with a reduction of shallots, white wine, champagne vinegar, tarragon, and peppercorns whisked with a beurre blanc, to which malossol caviar was added at the last moment." Esca was started by Mario Batali and Joseph Bastianich, in combination with Mr. Pasternack, who is co-owner as well as chef. In reviewing Esca after its 2000 opening, William Grimes said that the crudo appetizers "are the freshest, most exciting thing to happen to Italian food in recent memory" and that much of the menu is "simple but arresting."
In 2004, Mr. Pasternack won the James Beard Award as best New York chef. Mr. Singer wrote that for several years, Mr. Pasternack would travel to Esca from his home in Long Beach, N.Y. (also on the South Shore) with "plastic garbage bags containing fish that he'd caught the previous day."
In his 2007 review, Mr. Bruni wrote that Esca "is a steady, well-oiled trawler moving through placid seas." The secret of the chef's success? "It's passion," Mr. Pasternack told Mr. Singer, "plus knowing when something needs a little something."
Dave's latest venture, opened in 2014 is a seafood and pasta restaurant called Barchetta on West 23rd street.