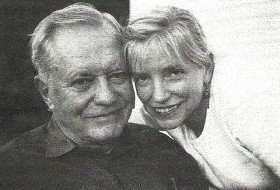 The smoked haddock known as finnan haddie is a Scottish thing and therefore a New England thing. My Dad (pictured here with me on Labor Day 2001) grew up loving it for breakfast—almost always prepared in the creamed version detailed here—as a kid in Milton, Massachusetts.
I added the johnnycakes to the recipe. Corncakes made from stone-ground flint corn, johnnycakes are another New England family tradition. There is a raging controversy about whether johnnycakes should be thick and fluffy or thin and crispy (my preference) and another about whether to serve them with butter (my preference) or maple syrup.
There's nothing controversial about suggesting that it's a shame that johnnycakes tend to be confined to the breakfast ghetto; they happen to be a great base for any topping. My pal Jasper White used to serve them topped with caviar and sour cream at his restaurant in Boston and it was an ethereal match.
1/2 pound finnan haddie (smoked haddock)
1 1/2 cups heavy cream
3 cups whole milk
1 small onion, thinly sliced
1 bay leaf, preferably Turkish
3 tablespoons unsalted butter
3 tablespoons all-purpose flour
Kosher salt and freshly ground black pepper to taste
1 tablespoon Dijon mustard
2 teaspoons chopped fresh dill
2 teaspoons fresh lemon juice
Johnnycakes, recipe follows
Cut the fish into 6 pieces. Combine the cream, half of the milk, the onion, and the bay leaf in a large saucepan. Bring to a boil over medium-high heat. Reduce the heat to medium and add the fish. Simmer until the fish is softened and flaky, about 10 minutes. Transfer the fish to a bowl and cool.
Melt the butter in a small saucepan over medium-high heat. Stir in the flour and cook, stirring often, about 2 minutes. Heat the remaining 1 1/2 cups milk. Whisk in the milk and increase the heat to high. Bring to a boil, whisking constantly. Reduce the heat to medium and season with salt and pepper. Simmer gently, stirring often, for 5 minutes. Remove from the heat and stir in the mustard, dill, and lemon juice. Thin to a pourable consistency with additional milk, if desired.
When the fish is cool enough to handle, remove and discard any skin and bones. Break the fish into small flakes and add to the saucepan with the sauce. Stir well to blend and taste again for seasoning. Add more salt and pepper if desired. Cook over low heat just to warm through, about 3 minutes. Serve warm with johnnycakes.
Johnnycakes: Bring 2 cups water to a boil. Mix together 1 cup Kenyon's johnnycake cornmeal, 1 teaspoon sugar, and 1/2 teaspoon Kosher salt in a large bowl. Pour in the boiling water. Mix well. Heat 1 tablespoon of oil per batch in a frying pan or griddle over medium heat. Working in batches, drop tablespoonfuls of the cornmeal mixture onto the heated pan or griddle. Leave the cakes for 6 minutes then flip over. Cook for an additional 6 minutes. Transfer to a pan and keep in a warm oven until ready to serve.