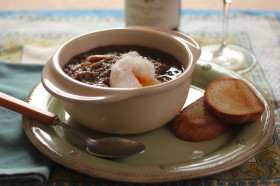 One of our favorite neighborhood restaurants used to be Beppe, where Chef Cesare Casella had created a menu bursting with the big sunny flavors of his native Tuscany. He made a mean lemony fried chicken, succulent spareribs in tomato sauce, and French fries fried with fresh herbs. But I was particularly partial to his onion soup with a poached egg on top. My version is much simpler, but very satisfying nonetheless. If you can't find pancetta (unsmoked Italian bacon) in your local market, you can substitute regular old American bacon. The key is to cook the onions slow and low.
Makes 4 servings
Hands-on time: 20 minutes
Total preparation time: 1 1/4 hours
Ingredients
1/4 pound thinly sliced pancetta, chopped
3 tablespoons unsalted butter
3 pounds yellow onions, thinly sliced
1 cup red wine
Three 14- or 14 1/2-ounce cans (about 5 1/4 cups) low-sodium beef broth (my favorite brand is Rachael Ray's)
Kosher salt and freshly ground black pepper
4 large eggs
1/2 cup white vinegar
3 tablespoons cognac, optional
1 1/2 ounces Parmigiano-Reggiano cheese, grated (about 1/2 cup)
Freshly ground black pepper
Eight 1/2-inch thick slices Italian bread, toasted
Directions
Cook the pancetta in a large saucepan over medium heat until crisp, about 12 minutes, transfer it to a plate using a slotted spoon.
Melt the butter in the same pan over medium-low heat. Add the onions and cook, covered, stirring occasionally, until they are very soft, about 20 minutes. Remove the cover and cook, stirring frequently, about 30 minutes or until the onions are golden brown. Add the wine and boil until it is reduced by half. Add the broth and simmer for 20 minutes. Taste and add salt and pepper, if desired.
Meanwhile, to poach the eggs, bring a mixture of 1 quart water, the vinegar, and 1 teaspoon salt to a bare simmer. Working with one egg at a time, crack egg into a small bowl and drop it into the simmering water. Cook gently until the egg is set, 3 to 5 minutes. Using a slotted spoon, lift egg to a plate. Repeat with remaining eggs.
To serve, stir the cognac into the soup, if using, and ladle into four soup plates. Top each serving with a poached egg, some of the pancetta and cheese, and pepper to taste. Serve with toasted bread.
Grilled Radicchio Salad
I'm not a big fan of radicchio – it's very bitter. Grill it, though, and you're talking about a different animal entirely, something mellow and almost sweet. Topped with a little balsamic vinegar, grilled radicchio makes a wonderful warm salad.
Serves 4
Ingredients
1/4 c. pine nuts, optional
2 heads radicchio, rinsed and dried
4 tbsp. extra-virgin olive oil, divided
Kosher salt
Freshly ground black pepper
2 tbsp. balsamic vinegar, preferably aged
Directions
If using pine nuts, preheat the oven to 350. Toast the pine nuts on a rimmed baking sheet until they are golden, about 10 minutes.
Meanwhile, preheat the grill, grill pan or broiler to medium-high. Cut each head of radicchio into 6 wedges, drizzle with half of the oil and sprinkle with salt and pepper on all sides. Arrange the wedges in one layer on the grill, grill pan or shallow baking pan.
Grill or broil the radicchio for 6 to 8 minutes on each side or until tender and caramelized. Transfer it to a platter or plates and drizzle with the remaining 2 tablespoons oil, the balsamic vinegar and the pine nuts, if using.
COOK'S NOTES
Egg Poaching Method
Fill a large skillet with water almost to the brim.
Add 1 teaspoon salt and 2 tablespoons white vinegar and bring the mixture to a boil.
Meanwhile, working with one egg at a time, break it over a medium strainer and let the watery part of the egg white drip through.
Gently pour the remaining egg and white into a ramekin or small bowl,
discarding the watery white. Continue the procedure with the remaining
eggs, placing each one into its own ramekin or small bowl.
When the liquid has come to a boil, turn off the heat under the skillet and, working quickly, gently slide all of the eggs into the skillet.
Cover the skillet tightly and let the eggs stand until the yolk has just set, about 4 minutes.
Remove the eggs from the skillet with a slotted spoon. Drain the eggs
briefly on a clean towel and serve them right away.
If you do not want to serve them right away, transfer them to a bowl of ice and water to stop the cooking. Drain the eggs and transfer them to a plate.
Cover and chill until you are ready to serve them.   When you are ready, bring a pot of water to a boil, turn it off and dip the egg in it for 30 seconds to reheat.
BUDGET SAVING TIPS
Penny-pinch Your Poultry
When I was working in France, I noticed that even home cooks prepped their own meat. Why do they do that? Because the more the grocery store does, the more you're going to pay.
Buy whole chickens and cut them up yourself (there are many good tutorials on You Tube) or at the very least, skip the boneless, skinless cuts. You'll save about 50% when you buy chicken with the skin and bones, and leaving those parts on will help it to cook up more tender and delicious.
When it's on sale, stock up on chicken on the bone and park it in your freezer.
Transform Your Leftovers
I actually get inspired by leftovers. Just think about it, most of the work is already done. All you have to do is get a little creative. For instance if you have a lot of leftover cheese in the fridge turn it into Gourmet Mac and Cheese. I call it odd lots mack and cheese.
Embrace Canned Salmon
It isn't the sexiest ingredient, but it's an insane bargain (as low as $2 a can!). Even better, what's inside is usually eco-friendly wild salmon with four times more healthful omega 3 fatty acids than canned tuna. You can make a salmon salad or salmon burgers with it. Trust me, it's very tasty.
Quick Salmon Cakes with Corn Salsa
Break Out of Your (Egg) Shell
My whole family loves eggs, lucky for me, because high-protein, low cal eggs cost only about 25 cents each. I see no reason not to serve breakfast for dinner, featuring eggs. One of my favorites is eggs baked in ham cups filled with sofrito.
Eggs Baked in Ham with Sofrito
Build a Thrifty Pantry
I make sure to keep all of these items in the cupboard. Here are my 10 pantry staple must haves:
Canned beans
Rice
Pasta
Olives
Roasted peppers
Tomato sauce
Stock
Frozen peas
Frozen corn
Onions
If you have these ingredients on hand you can make a tasty inexpensive meal at a moment's notice – risottos, soups, pastas. Here are a couple of good recipes:
Red Beans and Rice Soup with Ham
Linguini with White Bean, Roasted Red Pepper and Olive Sauce