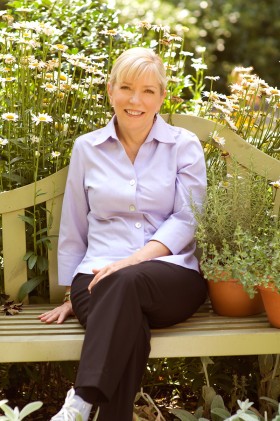 Here's what you will find on each of my 20 new shows!
201 High 5 – 5 Ingredient Mains – The fewer the ingredients, the faster dinner gets to the table – that's why I rustled up some delicious recipes featuring only 5 ingredients, and boy are they tasty.  Try the Roasted Salmon with Hot Mustard Cracker Topping – crunchy on the outside and oh so tender on the inside.  Buffalo Rice mixes the best tastes of Buffalo chicken wings – hot sauce, blue cheese, celery, and chicken –in a quick and flavorful rice bowl. Sautéed Duck Breasts have an Apricot Szechuan Peppercorn sauce that's packed with sweet and spicy flavors.  And nothing could be simpler than Peppery Broccoli Pasta with Feta Cheese – a satisfying meat-free alternative. When it comes to time, less is always better.
202 Two for One -To truly save time in the kitchen, I've got a simple solution: cook once, eat two completely different meals.  For example Grilled Lamb Chops with Steak Butter are fantastic on their own, but the leftover chops makes a second meal special when the cooked lamb is ground and turned into Herbed Lamb and Feta Burgers. Peruvian Baked Chicken Thighs are going to be a hit with your family.  Who knew they could be reincarnated so successfully in Chicken and Tomatillo Salsa Nachos?
203 Girls at the Grill with Elizabeth Karmel -Women of America, pick up your tongs, put on your aprons and man the grill!  It's easy with my buddy Elizabeth Karmel to guide you.  First is an easy Chicken Paillard with Greek Farmers Salad and Tzatziki to get the basics down.  Then –pizza!  This one is a Blistered Corn and Asparagus Pesto Grilled Pizza. Finally, we'll go all out with Elizabeth's famous Texas Hill Country BBQ with a universally loved finger lickin' sauce. Tonight, Boys drool, Grill Girls Rule.
204 Breakfast for Dinner – Turn the day upside down with easy egg based meal like Indian Scrambled Eggs – infused with exotic flavors on a crispy platform of pappadam wafers.  How about a savory BLT and Egg Pie? – a fun take on the lunchtime classic which includes a tutorial on making crust for the pastry impaired?    When there's no time to cook, reach for the eggs.
205 Sandwich Night – Who doesn't love a sandwich? Mine are hearty with layers of flavors and textures.  Make your own easy Beer Bread, then stuff it with a cheating Pulled Chicken Barbecue and Quick Homemade Pickled Cucumbers you make yourself – it's simpler than you think! Fried Catfish BLT's bulks up the traditional sandwich with some crunchy fish fillets and tricked up basil mayonnaise.  Then, amaze your family by making your own Ricotta cheese, the star of Roasted Vegetable and Fresh Ricotta Sandwiches.
206 Salad – it's easy being Green. Versatile, easy to make salads will please even the hungriest eater the way I do it, with enough protein to stick to your ribs and a huge supporting cast of vegetables. Think about Warm Steak House Salad with Blue Cheese Dressing – it's so rich and filling you'll forget it's a salad. Crunchy Falafel Salad with Creamy Garlic Dressing will give vegetarians something to shout about.  Then there's Seared Scallops and Butter Lettuce Salad with Grapefruit Vinaigrette–perfect for a hot weeknight but elegant enough for company.
207 Indian Comfort Food with Floyd Cardoz – Top Chef Masters winner Floyd Cardoz joins me to cook the food he grew up on in India, made famous at his NYC eatery Tabla.  First Wild Striped Bass Curry swimming in coconut and mild spices.  Chicken Pilaf is simple but satisfying with a gingery yogurt sauce. Finally Beef Kebabs are flavored with the heat of chilies, ginger and cumin to kick start your taste buds.
208 Thanksgiving 101 – I will cover the essentials -how to buy, defrost, brine, roast, and time the bird with Top 10 Thanksgiving Mistakes and How to Avoid Them.  Your Thanksgiving dilemmas are solved with my One Size Fits All Stuffing (you pick the mix ins); how to prep delicious wine infused Gravy in Advance, and how to keep and reheat tasty Mashed Potatoes. I'm your one stop expert for Thanksgiving advice.
209 Soups On – Hearty soups are meals in themselves and mine are both substantial and easy to make.  There's a cool Seafood Gazpacho, loaded with juicy shrimp and crab with a little kick of heat.  Nothing warms the belly more than the New Orleans inspired Red Beans and Rice Soup flavored with Creole seasoning and  smoky ham, and to take advantage of all that late summer squash you can't beat Sunny Squash Soup, as yellow as the sun with a crispy fried zucchini garnish.  Soup – it's a tasty bowl of comfort.
210 Holiday Food Gifts A thoughtful homemade gift is the nicest gift you can give during the holidays. A tasty edible treat is the present everyone loves.  I am going to teach you how to make Homemade Marshmallows with a Hot Chocolate Mix.  For the wine enthusiast, I will demonstrate Savory Rosemary Walnuts to pair beautifully with a bottle of special wine.  Peppermint Bark looks very fancy and expensive but couldn't be easier to make.
211 Locavore in Napa with Joey Altman – I travel to a beautiful vineyard in Napa, California to cook farm fresh meals locally sourced with Bay Area chef Joey Altman.  After a field trip gathering ingredients from nearby farms and farm stands, we cook Grilled Salmon, Arugula & Grilled Corn Salad, Sweet Pea & Avocado Crostini.   And with Grilled Duck Breast, Honey Roasted Carrots, Farro-Herb Salad and Cider Jus, the best of the farm is on the plate.
212 Gone Fishin' with David Pasternack – Seafood expert David Pasternack from New York's fish temple, Esca, shows why he loves food with fins with three favorite recipes from his arsenal – Fettuccine with Rock Shrimp, Corn and Jalapeño, Grilled Mahi Mahi with Panella and Chickpeas, and Salt-Baked Pesce per Due with Braised Greens.  David takes the fear out of cooking fish (and attempts to give me a little lesson in fly casting).
213 Sunday Comfort Meals – Why rush on the one day you have a little more time to cook? Sunday meals are all about comfort, familiar dishes made with love and eaten with family and friends. On the top of the list is Roast Chicken Stuffed (under the skin) with Zucchini and Cheese to keep it moist and flavorful. Deviled Bones sounds gothic, but they're meaty, tender short ribs coated with a kick of mustard for heat. Odd Lots Mac and Cheese is a winner with the whole family, and the best part – any leftover cheese will do!  And Sara's Creamsicle Dessert will bring back comforting memories of the ice cream truck in summer.
214 Mi Famiglia– Italian family style with Guiseppe Fanelli – Guiseppe Fanelli is the chef at one of my favorite neighborhood Italian restaurants, Tre Dici, and today he shares home-style Italian recipes like Bruschetta al Tonno – a simple and delicious tuna bruschetta.  His Agnello Scottadito with Heirloom Tomato Salad mixes tender lamb with the freshness of a homegrown tomato salad.  And of course, there's pasta.  His is tossed with homemade Pesto, String beans and Potatoes.  Bellissimo.
215 Vegged Out – Flavorful, rich, satisfying vegetarian food? It seems impossible to carnivores, but when you try these hearty veggie entrees, you won't even miss the meat. My Rustic Potato and Greens Pie couldn't be more filling – and versatile too. There's nothing bland about Spicy Mushroom Enchiladas, cooled off with a blanket of sour cream and avocado. Mu Shu Vegetables in Pancakes are packed not only with vegetables but crunchy cashews and creamy eggs as well.
216 One Pot Asian Meals with Ming Tsai – My old friend Ming Tsai shares his favorite one-pot meals with an Asian twist.  His Lemongrass-Coconut Chicken Soup is a perfect showcase for a lesson on cooking with lemongrass.  Black Bean Scallops and Zucchini is cooked in a wok and delicious with Ming's signature 50-50 rice.  Ming's Ginger Orange Duck "Cassoulet" brings fresh Far Eastern flavors to a traditional French dish.
217 Carnivores Unite! We get it.  Most of America runs on beef, pork and chicken.  So today, I've got three special meat dishes. America's favorite juicy burgers marry up with Korean barbecue for my Korean Burgers.  (I'll even show you how to grind your own meat, no special tools needed.) Hey porkitarians, Buttermilk fried Pork Chops have two great things going for them – they're super juicy on the inside, extra crispy on the outside. And really, really tasty.  You'll love my Polenta Lasagna with crispy polenta cakes in place of traditional noodles, it's even easier and much quicker to make.
218 Appetizers for Dinner – For the big game try appetizers – simple foods you can eat with your hands. I've got Chorizo Chicken Wings with a most unusual ingredient.  Asian style Pork Sliders marry juicy pork with the cool crunch of fresh veggies. Beer Batter Shrimp is super crispy yet light – and marries well with a zesty Asian dipping sauce.  These simple foods deserve a classic drink – Old Fashioned Egg Creams – straight from the deli and into your home.
219 Latin All Stars with Maricel Presilla – Famed Latin American chef and food historian Maricel Presilla shares her favorite dishes and cooking techniques with me.  Her Zucchini Cuban Style Cherry Tomato Sofrito with Almond Cacao Picada is a fresh vegetable stew flavored with a surprise secret ingredient. And she prepares one of her Dad's recipes with me – a thick and hearty Cuban Okra Stew with Green Plantain Dumplings Stew.
220 Dinner for Two – Shopping and cooking for two has its own challenges, but I have tips and tricks to make two intimate dinners that simple to prepare and romantic. Chicken Saltimboca with Artichoke Sauce features chicken scallopine layered with, sage and prosciutto enveloped in a creamy Marsala based Artichoke sauce. Eggs Baked in Red Wine is a cozy, classic French recipe, perfect for dinner by the fireplace. And I end the meal with a Warm Chocolate Cheesecake that's simply seductive.