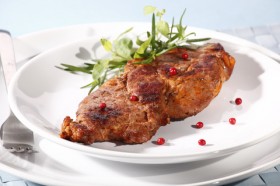 Known as
onglet
in French, hanger steak is sometimes called butcher's tenderloin in English because there is only one of these delicious cuts per animal and butchers tend to hog it for themselves. In other words, it is not something that is regularly stocked in the supermarket meat case, so make friends with your butcher and see if he or she can get it for you. Like skirt steak and flank steak, two other very flavorful but tough cuts of meat, hanger steak should be cooked no more than medium-rare and then sliced thin across the grain. That way it is tender and juicy.
The flavored butter is a great thing to have in the freezer for a quick finishing touch to any steak or to toss with cooked vegetables or toasted potatoes You can just slice off as much as you want from the log and stick the rest back in the freezer for another day.
8 tablespoons (1 stick) unsalted butter, softened
1 tablespoon Dijon mustard
2 tablespoons minced fresh basil
1 tablespoon minced shallot
1 garlic clove, minced
1/2 teaspoon kosher salt
One 2-pound hanger steak, trimmed
Additional kosher salt and freshly ground black pepper to taste
2 tablespoons vegetable oil
Serves 4 to 6
Combine the butter, mustard, basil, shallot, garlic, and 1/2 teaspoon salt in a small bowl. Mix well with a fork. Transfer to a 9-inch square of parchment or wax paper and roll to form a 1-inch wide log. Chill until firm, at least 3 hours. (The butter will keep for a week in the fridge or for a month in the freezer.)
Pat the steak dry and season with salt and pepper. Heat the oil in a large skillet over high heat and add the steak. Reduce the heat to medium-high and cook for 8 to 10 minutes per side for medium-rare. Let rest for 5 minutes, covered loosely with foil. Thinly slice at an angle and top with slices of the seasoned butter. Or deglaze the skillet with the juices that come out of the steak while it is resting, whisk in some of the butter over low heat, and spoon the sauce over the sliced steak.