Grace Young is an award-winning cookbook author, culinary historian, and filmmaker. She has been a fierce advocate for Chinatown, and in 2020, co-created the video series Coronavirus: Chinatown Stories, with Dan Ahn in collaboration with Poster House, which documents the toll of the pandemic on NYC's Chinese community. After the success of their #SaveChineseRestaurants campaign she is partnering once again with the James Beard Foundation and Poster House on a #LoveAAPI  Instagram campaign. Dubbed the "accidental voice for Chinatown" by Grub Street, Grace's advocacy for Chinese mom and pop businesses has been written about in Smithsonian , Vogue, and Food & Wine magazine. Grace is the recipient of James Beard Awards for her Wok Therapist comedy video and her cookbook Stir-Frying to the Sky's Edge 

The Honey used in this recipe was Old Greenwich Honey
THICKENERS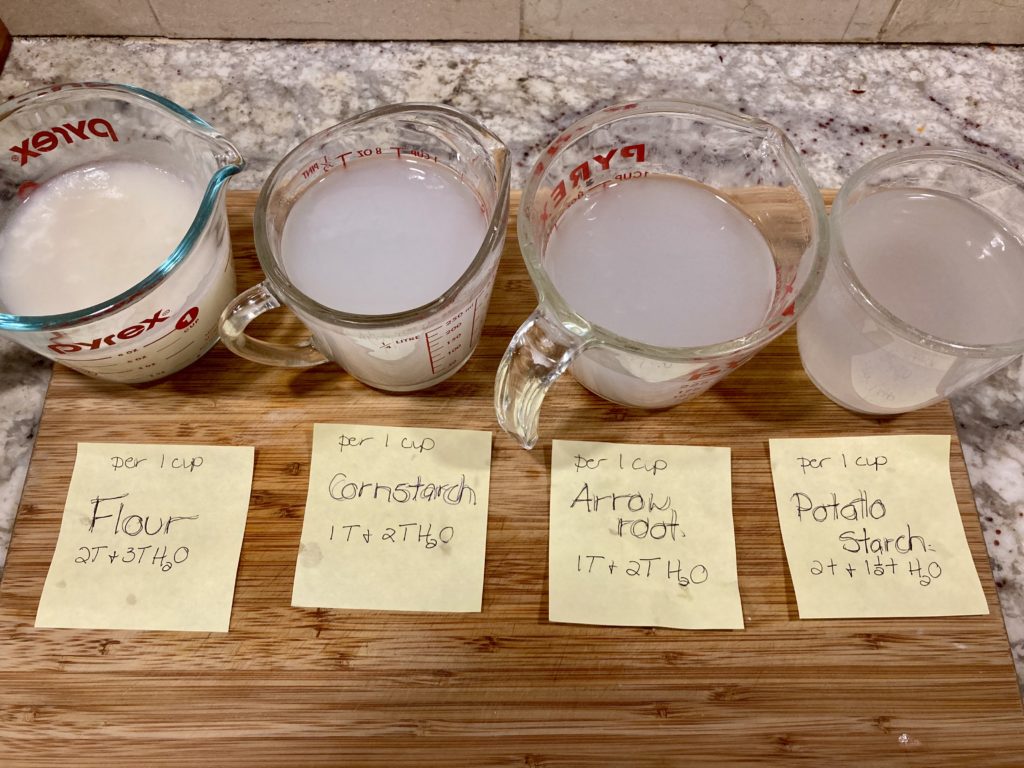 Here is a summary of my answers to guest, Elisabeth Voss Geers, about thickeners. You can see from the photo above what are the proportions of water and starch to mix in a slurry in order to thicken 1 cup of liquid. In addition here are some things to keep in mind:
Flour – produces an opaque liquid and is stable (does not break down if overheated), but it does have a floury taste which needs to be cooked out.
Cornstarch – produces a translucent silky liquid, works well with sauces that contain dairy but does not hold up well in sauces you want to freeze. It breaks down at higher temperatures.
Arrowroot – produces a transparent liquid, is completely flavorless and holds up well with acidic ingredients but is not good in recipes with dairy. If cooked too long it can thin out.
Potato Starch – produces a transparent liquid and like cornstarch and arrowroot it is gluten free.
Another option when making a soup or stew is to puree some of the cooked vegetables in the recipe and add them back to the pot.