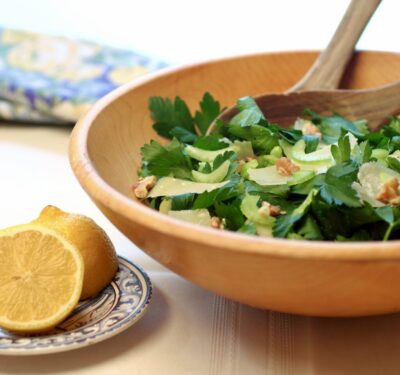 Photo by Jessica Leibowitz
1/2 cup walnuts
6 medium stalks asparagus
1 ounce Parmigiano-Reggiano
1 tablespoon plus 1 teaspoon fresh lemon juice
1/2 teaspoon kosher salt
3 tablespoons extra virgin olive oil
2 cups packed fresh flat-leaf parsley leaves
Preheat the oven to 350°F. Spread out the walnuts on a rimmed baking sheet and toast until golden, 7 to 10 minutes. Remove to a cooling rack and cool to room temperature. Coarsely chop the nuts (about 1/3 cup).
Meanwhile, very thinly slice the asparagus crosswise (about 3 cups) and shave the cheese (about 1/3 cup).
In a large bowl, whisk together 1 tablespoon of the lemon juice and the salt until the salt has dissolved; gradually whisk in the olive oil. Taste and add more lemon juice, if desired. Add the asparagus, parsley, cheese, and toasted nuts to the dressing and toss until combined.