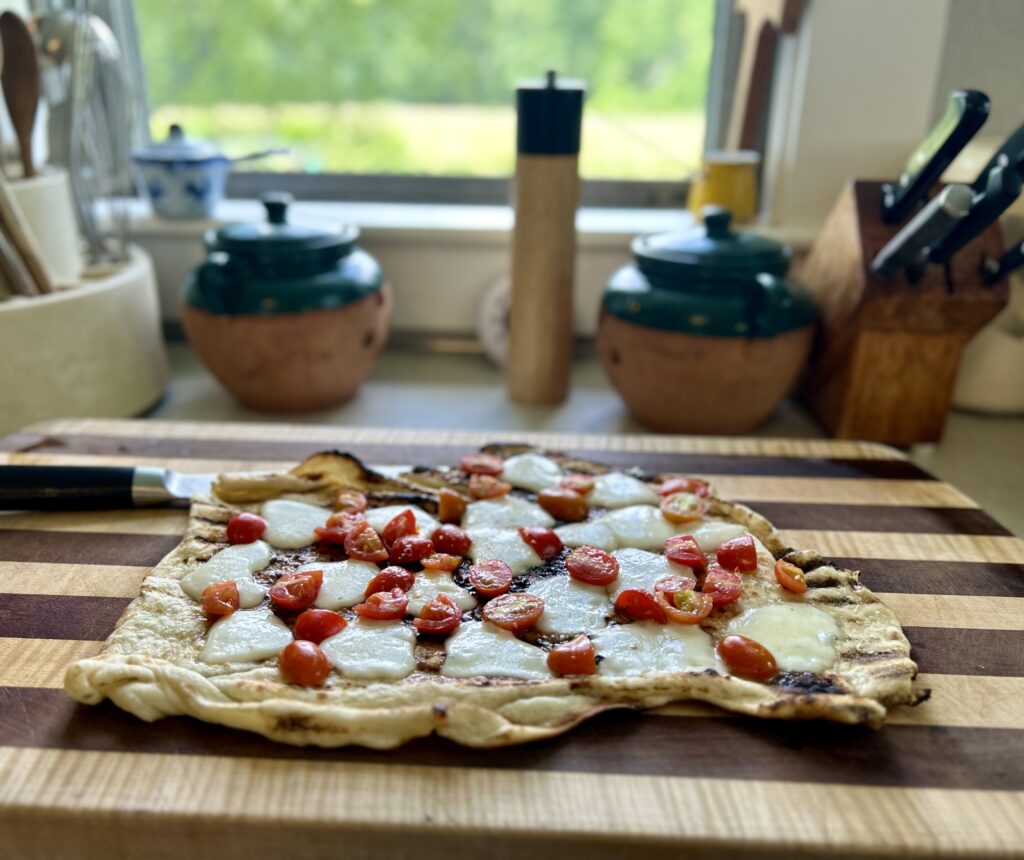 Servings: 6 personal pizzas
1 recipe Ten-Minute Pizza Dough (recipe below)  or 1 1/2 pounds room temperature store-bought pizza dough divided into 6 balls
1/2 cups Speedy Marinara Sauce or your favorite store-bought variety (note: omit, if making simple margherita pizza which consists of tomato, mozzarella and basil)
3 cups coarsely grated mozzarella, cheddar, Monterey Jack, or good melting cheese of your choice
4 1/2 cups assorted toppings:
Sliced mushrooms sautéed in oil
Thin sliced salami or prosciutto, cut into strips
Chopped roasted red peppers
Thin strips of fresh green peppers
Thinly sliced onion
Cooked crumbled Italian sausage
Chopped fresh tomatoes
Fresh Herbs for garnish (such as basil leaves, parsley, cilantro, etc)
Preheat the grill to high with the lid down. When ready reduce the heat to medium.
Roll out the pizza dough on a lightly oiled cutting board that you can carry to the grill into a 9-inch circle and brush the top of the dough with olive oil. Lift up the edge closest to you, and working very quickly, invert the dough, oiled side down, onto the grill. Close the lid and grill the dough for 1 to 3 minutes or until you can peek underneath and see that it is nicely marked on the bottom. Brush the top side of the dough with olive oil. Pick up the dough with tongs and place it, grilled side up and oiled side down, on the cutting board.
Turn off a few of the burners on the grill to set up an area with indirect heat. Top the dough first with marinara, if using, spreading it evenly to within 1/2-inch of the edges. Then sprinkle the cheese evenly on top of the marinara, followed by the toppings. For each personal pizza you will need 1/4 cup marinara, if using, 1/2 cup cheese, and 3/4 cup (combined) of the toppings. Slide the crust carefully back on to the indirect heat side of the grill with the help of tongs. Cover the grill and cook the pizza until the bottom crust is golden, 7 to 10 minutes. Top liberally with the fresh herb of your choice.
Ten-Minute Pizza Dough
Enough for 6 personal pizzas
12.75 ounces (about 3 cups) unbleached all-purpose flour
1 (1/4-ounce) package instant yeast
1 teaspoon sugar
1 teaspoon table salt
1 1/2 tablespoons extra-virgin olive oil (or vegetable oil if making dough for calzones), plus more for oiling the bowl and rolling out the dough
Combine the flour, yeast, sugar, and salt in the bowl of a food processor fitted with the metal blade and pulse once or twice. Add 1 cup very warm (120° to 130°F) water and the oil; process until a dough forms. It should be soft and slightly sticky. If it is too sticky, add more flour, 1 tablespoon at a time. If it is too stiff, add more warm water, 1 tablespoon at a time.
Shape the dough into a ball and place in an oiled bowl, turning the dough so the surface is completely coated. Cover with plastic wrap and let rise in a warm place until double in bulk, about 1 hour. Divide into 6 equal balls. Keep the remaining balls covered with a damp cloth while you roll out each personal pizza.