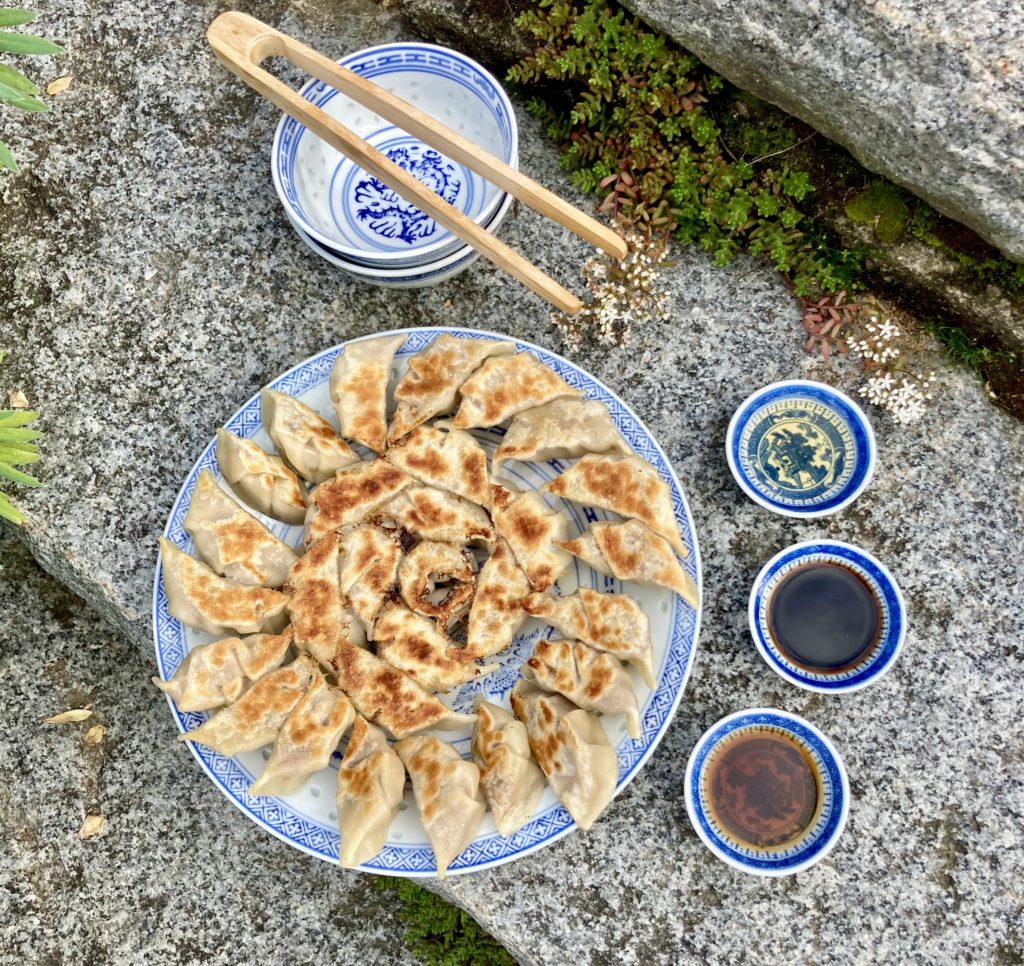 Note: We made an half recipe on the show, the following amounts are for the full recipe
 Makes 30 to 40 dumplings
Prep time: 1 hour
Total time: 1 hour 15 minutes
 For the filling:
1 pound ground beef
½ onion, finely chopped
4 green onions, finely chopped
5 garlic cloves, minced
1 cup finely chopped Napa cabbage
1 large egg
1 medium carrot, grated
1 inch ginger, peeled and finely chopped
2 tablespoons soy sauce
1 tablespoon fish sauce
3 tablespoons brown sugar
2 tablespoons cornstarch
1 tablespoon toasted sesame oil
½ teaspoon salt
¼ teaspoon white pepper
40 round dumpling wrappers
Vegetable oil for cooking the dumplings
Dipping sauce of your choice: black vinegar, ponzu, Thai peanut, Vietnamese (fish sauce, water, garlic, sugar and citrus)
Make the filling: In a large bowl combine all of the ingredients and mix them well.
To shape the dumplings, pleat each wrapper three times and fill with ½-3/4 teaspoon of the filling. Seal the dumplings with water, pinch together both sides using both hands, and press down on them to make the bottoms flat. Put shaped dumplings on a plate. After making a plate of completed dumplings, put them in the fridge while you continue to shape more. (You can freeze the dumplings but put parchment paper or wax paper on the plate first and cover the dumplings before freezing. Frozen dumplings will need to be cooked for a few minutes longer than fresh dumplings.)
To cook the dumplings: add enough oil to coat the bottom of a large nonstick skillet, add the dumplings in one layer and then turn the heat to medium high. As soon as you hear the dumplings crackling, add ¾ water to the pan, cover and turn down the heat to low. Cook for 5 minutes. Remove the lid and increase the heat to high (the wrappers should be translucent at this stage). Let any remaining water evaporate. Allow the bottoms of the dumplings to brown and crisp, about 3 to 5 minutes more (check for doneness of the bottoms of the dumplings by using a silicone spatula). When done, place a large round plate on top of the dumplings and flip the pan over.