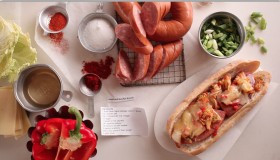 Serves 4
1 cup well-drained Quick Kimchi (see recipe below)
4 hero rolls
2 tablespoons extra virgin olive oil
1 1/2 pounds kielbasa
2 ounces sharp cheddar cheese
Prepare Quick Kimchi.
Heat a large skillet over medium heat until hot. Split the rolls horizontally to within 1/2 inch of the other side. Brush the cut surfaces with the olive oil. Reduce the heat to medium-low; place the rolls, cut side down, in the skillet, 2 at a time, and cook for about 1 minute, or until they just begin to brown. Transfer to a platter and set aside.
Meanwhile, cut the kielbasa crosswise into 4 pieces and split it horizontally.
Thinly slice the cheese.
Add the kielbasa, cut side down to the same skillet and cook over medium-low heat for about 5 minutes, or until  browned. Turn and cook for about 5 minutes more, or until the other side has browned.
Top the kielbasa with the kimchi and cheese; cover the skillet and cook for about 1 minute, or just until the cheese has melted. Transfer the kielbasa pieces to the rolls and serve.
Quick Kimchi   
Makes About 2 Cups
1 small head napa cabbage (about 1 pound)
1/3 cup kosher salt
1/3 cup unseasoned rice vinegar
1 Tbs sugar
1 tsp sweet or hot paprika
1/4 tsp cayenne pepper
1/2 medium red bell pepper
3 medium scallions
One 3-inch piece of fresh ginger
1 garlic clove
Trim off the core end of the cabbage. Split each leaf lengthwise and cut it crosswise into 1 1/2 inch ribbons (about 4 cups). Combine the cabbage and salt in a nonreactive bowl and set aside at room temperature for 2 hours.
Bring the vinegar, sugar, paprika, and cayenne to a boil over high heat in a small saucepan.
Meanwhile, finely chop the bell pepper (about 1/2 cup) and transfer it to a medium bowl. Trim and thinly slice the scallions (a heaping 1/3 cup) and peel and Microplane-grate the ginger (about 1 tablespoon); transfer each to the bowl with the bell pepper as it is prepared. Press the garlic (about 1 teaspoon) into the bowl.
Drain, rinse, and thoroughly dry the cabbage; add it to the bell pepper mixture along with the vinegar mixture and stir until thoroughly combined. Pack the kimchi into a nonreactive bowl or jar, cover, refrigerate until you are ready to use it. Kimchi will keep in the refrigerator for about 1 week.