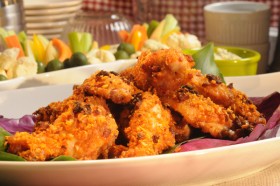 Makes 6 to 8 servings
Suggested accompaniments
crudités, blue cheese dip, olives
Ingredients
2 pounds chicken wings
1 T extra virgin olive oil
2 1/2 oz chorizo sausage, casing removed and very finely chopped
2 c Rice Krispies
1/4 c freshly grated Parmigiano-Reggiano
2 t sweet or hot paprika
1 t ground cumin
1/4 t kosher salt
Freshly ground black pepper to taste
1/3 c mayonnaise
2 garlic cloves, minced
2 t sherry vinegar
Directions:
Cut off the very tip of the chicken wings, known as the wing tips, and reserve for stock. Find the joint where the remaining two parts of the wing are joined and cut through the joint to halve. Preheat the oven 400°F.
Heat the oil in a small skillet over medium heat. Add the chorizo and cook, stirring, until lightly browned, about 3 minutes.  Drain on paper towels.  Cool to room temperature.
Place the Rice Krispies in a plastic bag with a resalable closure and roughly crush with a rolling pin. Transfer to a large bowl and stir in the cooked chorizo, Parmigiano-Reggiano, paprika, cumin, salt, and pepper.
Combine the mayonnaise, garlic, and vinegar in a large bowl.  Add the chicken wings and toss well to coat.  Roll the wings in the Rice Krispies mixture until well coated.  Arrange in one layer on a lightly oiled baking sheet and bake until golden, 30 to 35 minutes.  Serve hot.
Cook's Notes
If you don't have rice krispies in house you could substitute cornflakes or crackers
You can buy chicken wings whole, cut into joints, or as drumettes (the thickest of the three chicken wing joints). If you buy them whole and cut them up yourself you will save money (and also get the wingtips, that last little joint on the chicken wing which adds so much flavor to a stock)
Depending on where you live in this country, you will find one of two basic kinds of chorizo – Spanish or Mexican. If you live in the West or Southwest, it will most likely be Mexican; if you live in any other part of the country, it will most likely be Spanish. What is the difference?
In Spanish the word chorizo means sausage and refers to a variety of dried cured sausages that have been produced in Spain since Roman times, and possibly before. Spanish chorizo is usually made from ground pork, but it can also be prepared from beef and other meats. It is flavored with garlic, salt, hot or sweet paprika, and other spices and herbs; cured; and sometimes smoked. It needs to be heated only enough to cook the outer casing and warm the interior. Until recently the only kind of Spanish-style chorizo you could find in this country was domestically produced; finally a few years ago the government allowed the importation of chorizo from Spain. The Portugese have their own version, called chourico, and if you are lucky enough to live near a Portuguese neighborhood y find all sorts of deliciouss sausages in the market.
Mexican chorizo is fresh sausage prepared with ground meat (usually pork), fat, ancho or pasilla chiles, pure chile powder, cumin, and sometimes a bit of vinegar and tequila. The sausage is sold either in links or in bulk and must be cooked completely before serving. I have not yet met a chorizo I didn't like. They are wonderful as the main ingredient but equally important in a supporting role, giving depth of flavor to many dishes, much the way bacon, ham or pancetta does. You should do a taste test to find your favorite style and brand.