Makes 4 servings
Hands-on time: 35 minutes
Total preparation time: 35 minutes
This is a fun summertime meal. I have given instructions for cooking the steak in a skillet, but you could also just throw it on the grill or a grill pan for a little smoky taste. You can either give each person a plate with all the parts to make a lettuce wrap, as I have done here, or set up a platter as part of a buffet table.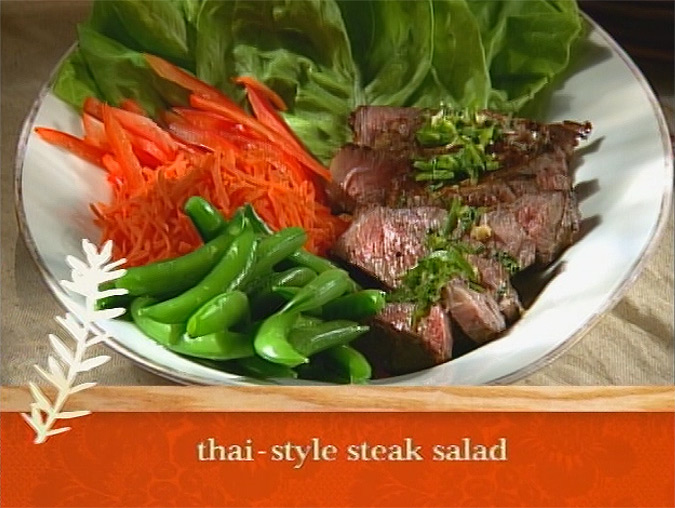 1/2 cup freshly squeezed lime juice
1/3 cup finely shredded fresh mint
1 to 2 jalapenos, seeded and thinly sliced crosswise
2 tablespoons soy sauce
3 to 4 teaspoons sugar
1 tablespoon Asian fish sauce
1 garlic clove, minced (about 1 teaspoon)
1 pound boneless sirloin steak, 1 1/2-inches thick
Kosher salt and freshly milled black pepper
1 tablespoon vegetable oil
2 heads Boston lettuce, rinsed and spun dry
2 large carrots, shredded (preferably in a food processor)
1 large red bell pepper, cut into strips
1/4 pound sugar snap peas, blanched in boiling salted water for 30 seconds and drained
Whisk together the lime juice, mint, jalapenos, soy sauce, sugar, fish sauce, and garlic until the sugar is dissolved. Let stand while you prepare the rest of the ingredients.
Season the steak on both sides with salt and freshly ground pepper. Heat the oil in a medium skillet over high heat until hot; reduce the heat to medium-high and add the steak. Saute it to your desired doneness, 4 to 5 minutes a side for medium-rare. Transfer the steak to a plate and let it rest for 5 minutes, then cut it across the grain into very thin slices (the thinner the better.) Add any juices from the steak plate to the sauce.
Arrange the lettuce, carrots, red pepper, and sugar snap peas on each of 4 plates. Divide the steak among the plates and spoon some of the sauce over each portion. Each person should use the lettuce as a wrapper and fill it with some of the meat and accompaniments.