Makes 6 servings
Hands-on time: 25 minutes
Total preparation time: 55 to 60 minutes
This quiche gets its Southwestern flair from Monterey Jack cheese and canned chiles. But if you have a little more time, you should lose the canned chiles and make it instead with roasted fresh poblanos, which are even more delicious. (See Tips.) I like the contrasting crunch of Triscuits, but just about any cracker would do. Then again, you could make this quiche without a crust and save a little time. Just put it in an oiled pie plate and bake it.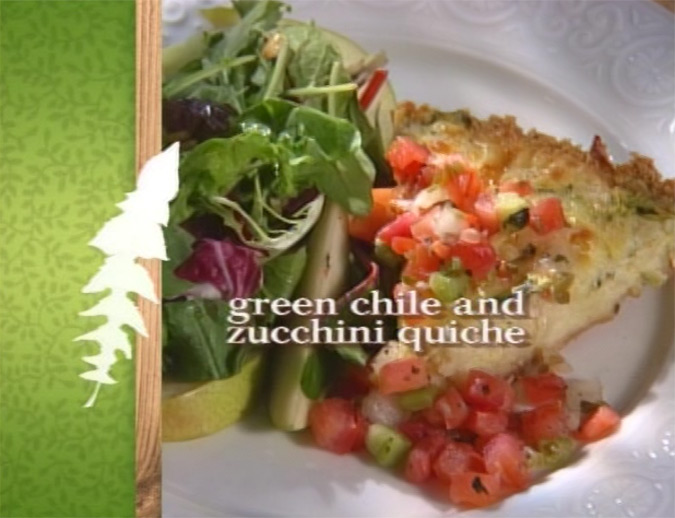 4 tablespoons (1/2 stick) unsalted butter, melted
24 whole grain wheat crackers (Triscuits) ground in a food processor (about 1 cup) or 1 cup dried breadcrumbs homemade (see Tips) or packaged
1 medium zucchini (about 6 ounces)
Kosher salt
1 tablespoon vegetable oil
1 small onion, chopped (about 1/2 cup)
1/4 cup unbleached all-purpose flour
1/2 teaspoon baking powder
3 large eggs
8 ounces Monterey jack cheese, coarsely grated (about 2 cups)
8 ounces whole-milk cottage cheese (1 cup)
One 4 1/2-ounce can chopped green chiles, drained
Bottled salsa, optional
Preheat the oven to 375 degrees F. Stir 2 tablespoons of the melted butter into the cracker crumbs. Press the crumb mixture into the bottom and 1-inch up the sides of a 9-inch glass pie plate. Bake the crust in the center of the preheated oven until it begins to brown, about 7 minutes. Remove the crust from the oven and reduce the oven temperature to 350 degrees F.
Meanwhile, grate the zucchini, preferably using the grating disk of a food processor. Toss the zucchini with 1/2 teaspoon salt and let drain in a colander for 10 minutes. Heat the oil in a medium skillet over high heat until hot. Reduce the heat to medium; add the onion and cook, stirring occasionally, until softened, about 5 minutes. Squeeze the zucchini well with your hands to remove excess moisture. Add the zucchini to the onion and cook over high heat for 3 minutes.
Combine the flour, baking powder, and 1/4 teaspoon salt in a small bowl. In a large bowl with an electric mixer, beat the eggs until thick and fluffy, about 3 minutes. Add the Monterey Jack and cottage cheeses, the flour mixture, and remaining 2 tablespoons melted butter to the eggs and beat well. Stir in the zucchini mixture and chiles and pour the mixture into the crust. Bake the quiche in the center of the oven until the top is puffed and golden brown and a cake tester inserted in the center comes out clean, 35 to 40 minutes. Set aside at room temperature 5 minutes, cut into wedges, and serve with salsa, if desired.