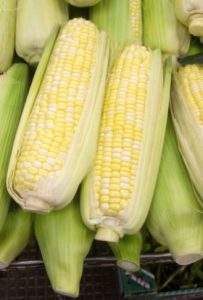 Posted with permission of author, from Caprial's Soups & Sandwiches by Caprial Pence.
Ingredients
8 cups chicken, fish, or seafood stock
1 tablespoon olive oil
1 large onion, diced
6 cloves garlic, minced
Kernels cut from 12 ears fresh corn (about 10 cups)
1 cup dry white wine
2 cups heavy whipping cream
2 teaspoons cayenne sauce, or to taste
2 teaspoons Worcestershire sauce
Salt
Freshly ground black pepper
Roasted red bell pepper puree for garnish*
Basil puree, for garnish**
6 to 8 sprigs watercress, for garnish
Cooked lobster or crab, for garnish, optional
In a large stockpot over medium-high heat, bring the stock to a boil. Decrease the heat to low and simmer.
Meanwhile, heat the olive oil in another large stockpot over medium-high heat until hot. Add the onion, garlic, and half of the corn, and sauté until the onion is tender, about 5 minutes. Add the wine and cook over high heat until reduced by one half. Pour in half of the hot stock and simmer over low heat, about 5 minutes.
Strain the mixture into the remaining stock. Puree the solids in a blender or food processor, strain again, and add to the stock mixture.
Reduce the soup by one-half over medium-high heat, then stir in the remaining corn, the cream, cayenne sauce, and Worcestershire sauce. Season to taste with salt and pepper.
To serve, ladle the soup into bowls and drizzle with the bell pepper and basil purees. Garnish with watercress and seafood. * red pepper puree is made by pureeing 2 roasted peeled and seeded red bell peppers with 1 clove garlic, ½ cup extra-virgin olive oil, salt and pepper. ** basil puree is made by pureeing 1 cup fresh basil leaves with 1 clove garlic and 1 cup extra-virgin olive oil.